Abolish the Olympics
They've long been a financial boondoggle that ruins lives and enriches the corporate class. This year, they might also spread a deadly Covid variant among a largely unvaccinated population.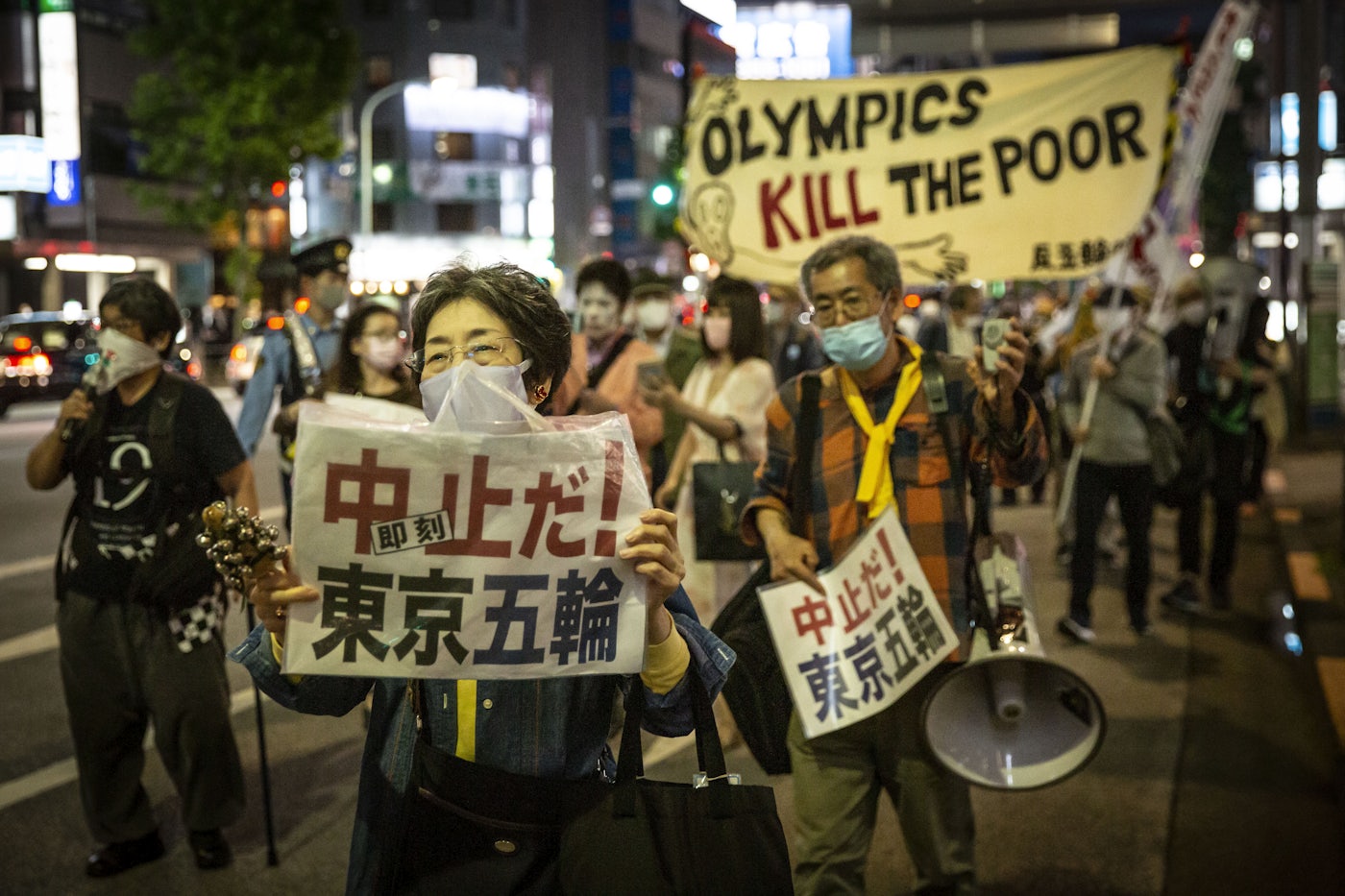 YUICHI YAMAZAKI/GETTY IMAGESJapanese citizens protest against the Tokyo Olympics in May.
Barely two weeks before the opening ceremony of the 2020 Olympic Games in Tokyo—already postponed a year due to the pandemic—organizers announced that spectators would be barred from most events amid a surge in Covid-19 cases. Japan's pandemic response has largely been lauded as effective; though the country's proportion of elderly citizens is higher than anywhere in the world, fewer than 15,000 people died. But the delta variant and a relatively low vaccination rate have fueled rational concerns about the wisdom of hosting a global sporting event.
The move amounts to a partial capitulation to widespread criticism of the summer games, such as The New England Journal of Medicine's condemnation of the International Olympic Committee's planned safety protocols. Meanwhile, some 83 percent of Japanese residents oppose holding the games at all, as does the newspaper Asahi Shimbun, an official Olympics partner. Not that they have much say in the matter: Only the IOC has the power to renege on a host city deal once it's made, global health catastrophe be damned.
The irate protesters flooding the streets of Japan and the growing chorus across the world are right: Of course Tokyo 2020, as it's still officially named, should be canceled. With only around 10 percent of Japanese people fully vaccinated and athletes traveling from countries with even lower immunization rates, it poses a dire threat to public welfare. There's no justification for holding it. But that's also true of every summer and winter games for decades, and likely will be until the end of time. Cancel the Olympics—for good.Summer Sale: 50% off fearless reporting.
1 year for $10Subscribe
Since their modern origins as a small-scale celebration of amateur athleticism in 1896, the Olympic games have mushroomed into a multibillion-dollar industry. The biannual games rake in billions in TV rights for the IOC and ad sales for Comcast and other media outlets, as well as millions more in corporate sponsorships and profits for real estate developers, hoteliers, and Airbnb. Meanwhile, the host city gets stuck with the bill for billions in infrastructure tweaks, construction, and operation costs.
As University of Oregon professor Jules Boykoff, who has written extensively on the politics of the Olympics, argued in The Washington Post, there's overwhelming evidence that the games are a financial disaster for cities: Every Olympics since 1960 has exceeded its budget, and cities and host countries are on the hook for cost overruns—a loss rarely recouped by the eventual influx of revenue so enthusiastically touted by elected officials as the reason to place an Olympic bid in the first place. One recent study found that since 2007, the games cost $12 billion apiece in sports-related costs alone—including event security, medical services, catering, and the construction of stadiums and Olympic Villages—not to mention up to several times as much for road and transit improvements, hotel expansion, and whatever else is needed to accommodate "the largest, highest-profile, and most expensive megaevent hosted by cities and nations." If a Japanese government audit is correct, Tokyo 2020 will come out to $28 billion, almost four times its original budget of $7.5 billion.